Q people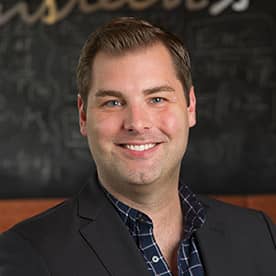 Matt Mistele
Senior Content Experience Creator
Qmate since 2017-ish
How do you stay sharp?
I love learning new things from people who are in different creative fields. From graphic designers to cinematographers, composers—seeing and learning about their respective processes always gives me a fresh and inspiring perspective on my own. Also: a strict five-part energy management regimen that includes carefully blended protein shakes, excessive sampling of coffee, regular reading of real books, Hans-Zimmer-powered workouts, almonds.
What is your perfect work day?
It's a combination of enthusiastic teammates, a comfortable room, something flat and vertical to write on, and a problem to solve. There's nothing better than being in a safe, energized space where very skilled and very curious people are working together to create new ideas. Actually, that's a lie. Any sandwich with brie on it is better.
What quality do you most value in your teammates?
I can't decide between empathy (critical, for teammates) or a sense of humor (critical, for homo sapiens). So, I guess I value decisiveness the most. Because my teammates will obviously need to complement me in that area.
What is the last book you read and would you recommend it?
Creativity Inc. by Ed Catmull and Amy Wallace, which is a book I love and actually try to re-read once a year. I was originally expecting a story about how Pixar (and later, Disney Animation) have been able to scale their creative process without sacrificing the quality of their work. Instead, I found a refreshing look at self-examination on a corporate scale that explains why you need to constantly re-evaluate yourself and question your approach in order to create the best work. It's a definitive read on the combination of humility and agility that it takes to be a great leader, from a great leader.