Q people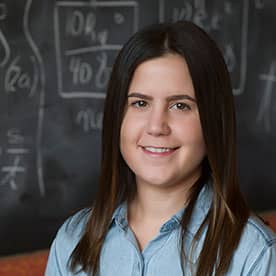 Melissa Piluso
Project Lead, Client Results
Qmate since 2017-ish
How do you stay sharp?
I stay sharp by reading, exercising, and continuously seeking new opportunities for learning. I also enjoy a good coffee (or three).
What is your perfect work day/work week?
My perfect work week is one in which I am able to effectively contribute to both my clients and Quarry's success by staying organized, efficient, and strategic in my role. I love to-do lists, and checking everything off in a given week doesn't hurt either.
Would you rather go into outer space or to the depths of the ocean? Why?
I would much rather go to the depths of the ocean than into outer space. I recently vacationed in the Azores and went swimming with dolphins. We went on a boat and were dropped into the ocean to snorkel with the dolphins in their natural habitat. It was an amazing experience, and it made me realize just how massive the ocean is (it also scared me a bit if I'm being honest – we weren't wearing life jackets). The bottom is nowhere to be seen and there are so many creatures down there—I would love to explore more!