Q people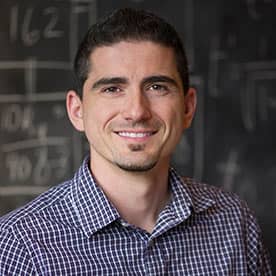 Jim Gramozis
Visual Experience Designer
Qmate since 2006-ish
How do you stay sharp?
It's the people around me that keep me sharp. Working with such talented individuals makes me want to better my practice and up my game.
What do clients find at Quarry that they won't get elsewhere?
A team with heart who puts everything on the table. We invest a lot of ourselves, our personalities and our story into the everyday work. I feel we move forward as a collective with the same passion and vision, and that defines us as a great organization.
Why Quarry for you?
The work and the talent. Working with interesting and cutting-edge clients with a team of great Qmates keeps me engaged. I've also made life-long friends at Quarry—this alone speaks volumes.
Would you rather go into outer space or to the depths of the ocean?
Outer space. There are too many unanswered questions, and I would jump at the chance of being on a Richard Branson-funded discovery mission.
What is the last book you read and would you recommend it?
Ten Little Fingers and Ten Little Toes by Mem Fox. After any long day, reading this book to my daughter helps us both find our calm and happy place.