Q people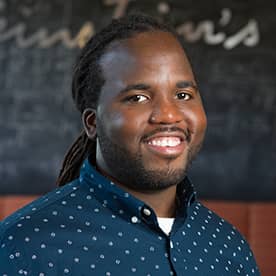 Dwight Newbold
Marketing Data Analyst, Advanced Analytics
Qmate since 2017-ish
How do you stay sharp?
Reading R-bloggers, episodes of Judge Judy and fish oils
What is your perfect work day/work week?
One that is the perfect balance of calm and chaos. Having a routine is good but having a wrench thrown in that routine, and thinking on your feet or having to do the unexpected every once in a while makes for an awesome day.
What quality do you most value in your teammates?
Authenticity. I like it when the people I am surrounded with are willing to give their honest opinion and are willing to engage in open communication while still demonstrating a level of empathy.
Would you rather go into outer space or to the depths of the ocean? Why?
I grew up surrounded by ocean so I definitely want to see what outer space has to offer.