Q people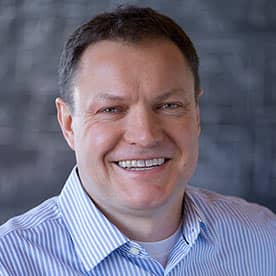 Paul Stables
MarTech R&D
Qmate since 2013-ish
What is your perfect work day/work week?
One that starts with getting my two boys ready for school on time, hitting all green lights on my commute to St. Jacobs and solving the music riddle of the day on our Social Media Q-mate's whiteboard. Then delivering some insightful services to our clients, being first to the vegetable and fruit fridge, having time to experiment or successfully troubleshoot an issue, and finally completing everything I set out to in the morning.
Oh, this would also end with my two boys going to bed exactly on time.
Why do clients choose Quarry? What do they find here that they won't get elsewhere?
Having worked at other agencies as well as having been a client of Quarry, I would say people who are looking to expand and elevate their internal team's capabilities and need someone to consult with for unbiased advice and when real change needs to happen quickly. Clients will find partners at Quarry (vs. vendors) concerned with the long-term relationship as well as the short-term goal.
Why Quarry for you? (What brought you here? What keeps you engaged?)
This is my second time at Quarry coming from the client-side. I returned to Quarry as I knew there would be the challenge of a variety of clients with vastly different requirements. At Quarry, I have the freedom to deploy solutions from a full spectrum of technologies in a creative, collaborative environment where I can work on projects with like-minded colleagues.
Would you rather go into outer space or to the depths of the ocean? Why?
Definitely the ocean, I'm only certified to go to 60' but I've gone even deeper without noticing.
What is the last book you read and would you recommend it?
The last book I read was The Mysterious Cheese Thief by Geronimo Stilton. If you want a lesson on how to become a brave mouse vs. a "fraidy" mouse, I'd highly recommended it. The book before that was an excellent eBook refresher Math and Stats for Analytics and Conversion Optimization that would be useful for anyone seeking to ensure the analytics reports they receive are relevant and accurate.