Do you ever think critically about the effectiveness of your company's segmentation model? About its role in product development, marketing, sales and customer support efforts?
Your segmentation can play an integral role in fueling competitive differentiation. It can inspire customer-centric thinking and provide a source of strategic advantage.
Opportunity awaits savvy marketers
In our Curve Jump™ practice at Quarry, we see a critically important role for segmentation in today's experience economy. But, our recent research with 200 senior decision-makers across North America suggests many companies haven't yet seized this opportunity.
60% of respondents said they were satisfied with their current segmentation model, but, when we probed deeper, it was clear they shouldn't be.
Of those who had a declared segmentation model, almost 75% indicated their segmentation was not noticeably different than their competitors'. If companies are seeing customers in a similar way, how do they create differentiated experiences?
Only 15% used a robust, quantitative method to determine their segmentation model. Are internally created models—or those built off of qualitative data only—sufficient for building valid business cases and maximizing the effectiveness of marketing budget allocation? In our experience, no.
Only 1 in 10 had a single, common view of customers that they were using across their organization's functional activities. How can companies expect to create meaningful and consistent brand experiences across all touchpoints if their internal functions are using different (and sometimes conflicting) views of the same customer?
There is clearly a significant opportunity awaiting marketers and business decision-makers who recognize the integral role effective strategic segmentation can play in driving business in the experience economy.
Creating differentiated experiences requires effective segmentation
There's a system of important assumptions that exists in any business that isn't often talked about. But, if we step back, think about that system deliberately, we can see that a company's segmentation model is, in fact, vitally important as a potential source of competitive advantage.
Consider the following diagram, starting from the top: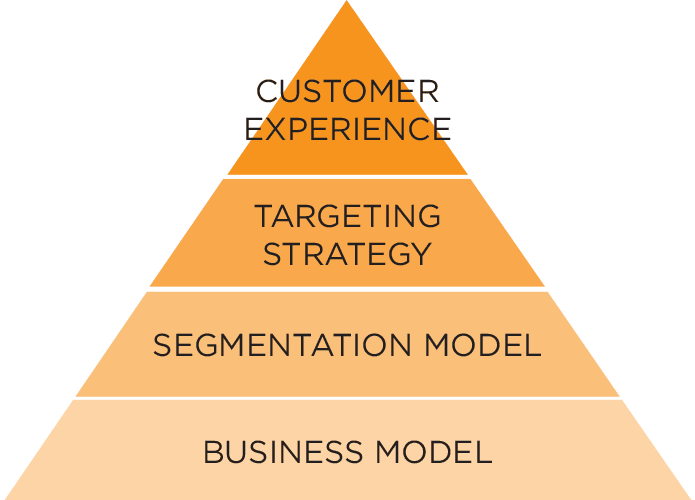 Businesses today are increasingly moving deeper into the era of the customer. Competing effectively means differentiating our customer experience from our competitors'.
What's needed to differentiate based on customer experience? We've got to design our products, messaging and customer experience for a particular target customer. In other words, we need a targeting strategy.
But, to have a targeting strategy, we first need a robust view of the different types of potential customers in our marketplace. And, we need an understanding of the differences that make a difference™ between customers that matter to our particular company; that's our segmentation model.
Our segmentation model sits on top of the business model; for long-term sustainability, the way we produce value must be in the context of creating relevant and resonant experiences for a particular set of targeted people. We all know that, ideally, everything we do within our company should focus on creating that value in order to produce rewards for the business.
What follows then is that our company's segmentation model is a strategic asset for how we compete. With the rise in importance of the customer experience, it is critical that we have a segmentation model that is different from our competitors' and which provides a source of brand differentiation.
Otherwise, we and our competitors will end up targeting the same average customer with the same, average experiences. When we do that, we achieve, effectively, nothing more than a race to the bottom.
And, if we wanted to do that, we'd just compete on price, wouldn't we?
Segmentation matters. Are you happy with yours? Or, more to the point, should you be?