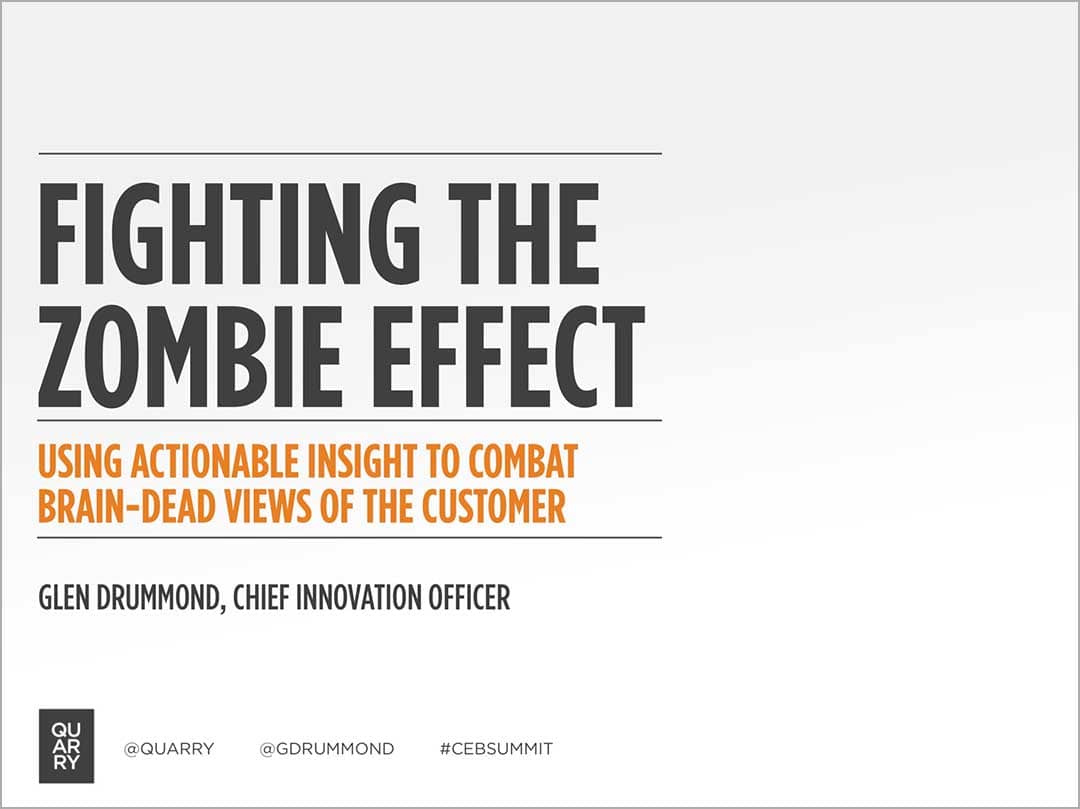 Be warned: Zombies are killing business. Brain-dead "zombie segments" to be exact.
And your brand is at risk. You're most vulnerable to attack when your buyers have changed, but your organizational perspective of them has not. The result is an out-of-touch view of "the customer," codified in an out-of-date segmentation model that's not only lost its ability to inspire innovative ideas, it actually prevents them. It's a very real threat. And the poor decision making that results is horrifying!
Might zombies be shuffling around the halls of your business? Hundreds of senior leaders certainly thought so when Quarry's Glen Drummond posed this question during his "Fighting the Zombie Effect" presentation at the recent 3-day 2014 CEB Sales and Marketing Summit in Las Vegas. In fact, 71% said they were dissatisfied with their segmentation model.
Glen's presentation unpacked the very real cognitive traps that underpin the zombie effect, the dangers it poses and what you can do about it. Along the way Glen shared how leaders, like John Deere, take steps to combat this threat using actionable insight.
Some of the best minds in the industry joined the conversation. Here's what Koka Sexton (leading @LinkedIn advocate for social selling), Melissa Madian (pioneering modern marketer and VP Sales Enablement @VisionCritical) and Annette Promes (CMO @Moz) had to say:
When zombies attack, really bad things happen. Products fail, market leaders falter, sales slump and industries stumble. Be prepared.
You can catch Glen again this week (Nov 12, 2014) at this year's Canadian Marketing Association's B-to-B Conference. Joining him on the podium will be John Deere's Todd VanTilburg, and together they'll be sharing experiences and insights about how John Deere is "Renewing Leadership by Disrupting the View of the Customer".