Quarry ranked a top B2B marketing agency in the U.S. by Chief Marketer
Quarry has been named a 2017 B2B Top Shop, a list of the top 50 U.S. B2B marketing agencies as chosen by the editors of Chief Marketer.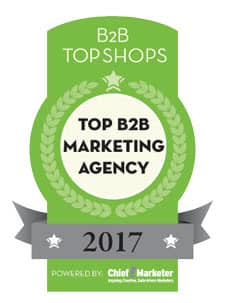 "We're honored that Quarry has been selected for this best-in-breed list of B2B marketing agencies," says Richard Hill, Managing Director, Demand Generation for Quarry. "With exciting new client wins, and now this recognition from Chief Marketer, we're setting the course for another great year in 2017."
B2B Top Shops is an essential resource for B2B brands and agencies seeking experienced partners in their marketing efforts. According to Chief Marketer, it is "the best and brightest business-to-business marketing agencies, both big and small."
"Today, B2B marketers—and their agencies—need to be part artist, part scientist, even part technologist," says Hill. "I'm thrilled that Chief Marketer saw in Quarry, a team with the breadth and depth of modern marketing skills needed to drive real growth for B2B brands."
Today, B2B marketers—and their agencies—need to be part artist, part scientist, even part technologist
Quarry is pleased to continue to be recognized for its B2B marketing chops. In 2016 the agency was named the B2B Marketer of the Year by the Canadian Association of Marketing Professionals, selected as a finalist for the prestigious Business Marketing Association's B2 Agency of the Year, and won the B2 Agency Promotion Award.
The complete 2017 B2B Top Shops list can be found online at Chief Marketer B2B Top Shops 2017.
About Quarry
Quarry is the single agency to drive real growth for brands with complex buying journeys. Unraveling the many dimensions of how sophisticated, empowered buyers make business purchase decisions, simplifying complex stories about highly engineered solutions, creating consensus-building, customer-centered brand experiences, and enabling savvy leaders to drive change is our passion. Our 90+ team of modern marketing strategists, creatives and technologists do this for some of North America's most respected brands.
About Chief Marketer
Chief Marketer, published by Access Intelligence, charts the customer journey from acquisition and engagement through conversion and retention. Via ChiefMarketer.com, print products, live events, awards programs and more, Chief Marketer offers data-driven intelligence, actionable insights, inspiring case studies and the latest technology trends to help marketers improve their campaigns and increase ROI.