Strategy without tactics is the slowest route to victory.
Sun Tzu
Challenger strategy without proper execution of Challenger tactics could be the noise before defeat of your ambition to adopt Challenger in your organization.
You've uncovered a strong commercial insight. Now, are you equipped—and is your agency qualified—to get it into the market? To create powerful Challenger messaging and content that unteaches and drives consensus.
You shouldn't have to unteach your agency.
When your agency partner is not CEB vetted, certified and trained, you must help your agency unlearn a bunch of things they take for granted such as their approach to segmentation, targeting and positioning, creative strategy and the role of thought leadership.
Selecting a CEB-certified agency removes that burden. Instead of changing the mind of your agency, you can focus on the more lucrative task of changing the minds of your prospects.
Meet Quarry—a Challenger-certified, modern marketing agency.
We've recently joined forces with CEB to help B2B leaders go-to-market with Challenger messaging and content creation. It's all part of CEB's new Challenger ™ Marketing Content Architect solution.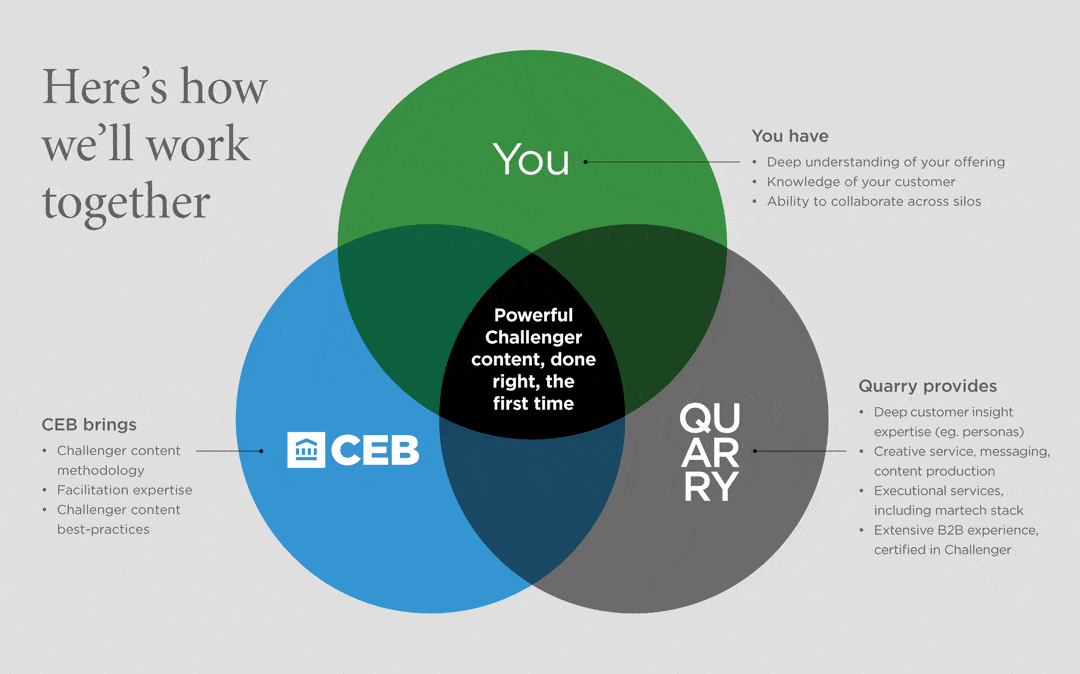 Why Quarry?
We're Challenger trained
Our strategists and creative teams have been trained in Challenger by CEB. Unlike your current agency or in-house teams, we already know what it means—and what it takes—to be a great Challenger marketer.
We're Challenger experienced
Being trained in Challenger is one thing. But having experience executing Challenger is another. Add to that our decades of experience in B2B marketing.
We're right sized
With a team of nearly 100, we're big enough to deliver world-class work on time, every time, yet small enough to ensure you'll receive the personalized, dedicated care and attention you and your brand deserves.
We're best-in-class
No, we're not on Madison Ave. But don't be fooled, we're best-in-class at B2B marketing. We're the MarketingProfs B2B Agency of the Year (2013), top #B2BMarketing influencer on Twitter (2015), BMA B2 Agency of the Year Finalist (2016) and CAMP B2B Marketer of the Year (2016).
CEB selected Quarry as a Challenger Agency Partner based especially on alignment of perspectives. Quarry's treatment of B2B purchases as a dynamic system corresponds with our research findings… and their insight methods are perfectly tuned to this complex environment.
Pat Spenner, CEB
Co-Author, The Challenger Customer
Watch as Pat Spenner discusses
The Challenger Customer
Recently Pat Spenner discussed CEB's new book with Glen Drummond, Chief Innovation Officer at Quarry.