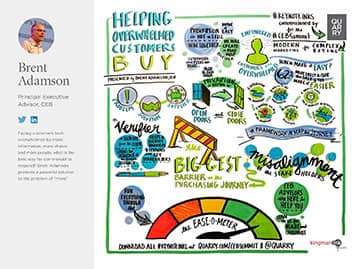 For B2B marketing practitioners, 2015 was a year of inspiration. It was the year the brightest and the best minds in the industry—from Jay Baer, to Joe Pulizzi, to John Cleese—hit the road and shared their knowledge and their insights at key B2B marketing conferences across North America.
Kelly Kingman and Quarry were there, capturing the hottest speakers' thoughts into rich, accessible visual summaries—what we call Keynote Inks™. Created in real time during each presentation, Keynote Inks condense a speaker's ideas and energy into one fantastic illustration. Now we want to share the 30 best talks with you, absolutely free of charge.
Here's what you'll get
Quarry is proud to present The 30 Best B2B #KeynoteInks of 2015. Curated and collected into one, easy-to-download document, it offers big ideas served up in a compelling, entertaining way.
Keynote Inks rendered during the must-attend keynotes from The CEB Sales & Marketing Summit, BMA 15, Content Marketing World, and MarketingProfs' B2B Forum
A recap of the trends that matter most for modern marketers—and an inspiration to guide your efforts in 2016
An illustrated glimpse into some of the greatest minds in B2B marketing, including, Laura Ramos, Scott Brinker, Jonah Berger, Brent Adamson, Avinash Kaushik, and many more.