Q people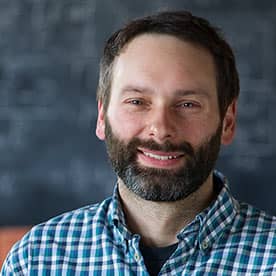 Jeff Anton
Creative Director
Qmate since 1996-ish
How do you stay sharp?
I run to stay sharp. Running gives me time to decompress and get my mind off of what happened during the day. It's also a great way for me to think about design/creative ideas without any distractions.
I also take the time to engage with other forms of art on a regular basis – photography, video, and fine art/illustration – all of which influences our work here at Quarry.
What is your perfect work day/work week?
My perfect work week would include working on a brand identity with a small team, rolling that out into collateral, and then working closely with a writer to develop creative ideas that solve a specific problem.
What quality do you most value in your teammates?
I value my teammates for their hard work. Not settling for the status quo and pushing creative and design to the next level.
Why Quarry for you? (What brought you here? What keeps you engaged?)
I love having a variety of projects from week to week. New problems to solve push me to think differently and keep the workday exciting.
What is the last book you read and would you recommend it?
I recently read The Snowy Day by Ezra Jack Keats to my niece. It's a great story with simple, graphic illustrations. I would highly recommend it, and my niece gave it a thumbs up too.